History of Ski Museum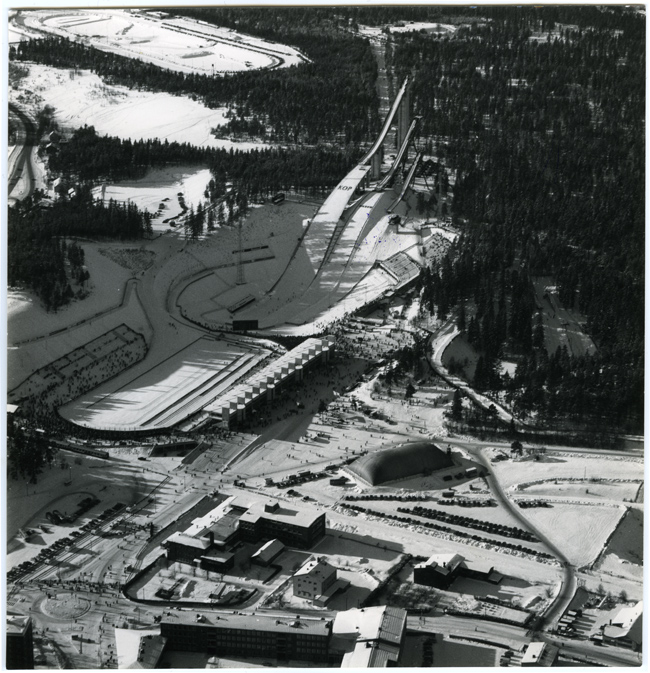 The history of exhibitions with a ski theme in Lahti begins from 1926, the year of the first ski exhibition in Lahti. In 1959, the Veteran Section of the Lahti Ski Club made a proposal to the Board of the Ski Club to establish a ski museum. The Ski Museum, focusing on Finnish winter sports, became part of the Lahti City Museum in 1974. It took many years until the museum had a building of its own.
The Ski Museum building, designed by architect Esko Hämäläinen, was built in 1989 in the Lahti Sports Centre. It was opened to the public on 1 November in the same year. In 2000, the building was given a wooden facade, when the extension designed by architect Pekka Salminen's firm was completed. The new extension also included a modern auditorium and the panorama restaurant Voitto. The Ski Museum was renovated in 2016. The magnificent new look is based on the design of architect Jorma Latva. The main exhibition and interactive section were completely renewed in 2017. The Finnish Heritage Agency has specified the Lahti Ski Stadium as one of Finland's most important built cultural environments.
Sports Centre and Ski Stadium 
Attention, attention, this is Lahti and Salpausselkä calling! The Lahti Sports Centre is rich in ski tradition. It has hosted the Lahti Ski Games and several Nordic Ski World Championships since 1923. World Championships have been held in Lahti in 1926, 1938, 1958, 1978, 1989, 2001 and 2017. 
The Lahti Sports Centre is an important sports hub in Lahti. It is the home of a stadium that serves as an athletics and football arena in the summer and a ski stadium in the winter. In the area, there are three ski jumps for adults and smaller ones for children and adolescents. In the summer, the landing area of ski jumpers turns into a public outdoor swimming pool. There is also an ice arena nearby. The Sports Centre is the starting point for an extensive network of ski tracks and walking trails in the Salpausselkä terrain.
Nationally significant built cultural environment
The Finnish Heritage Agency and Ministry of the Environment specify the Lahti Ski Stadium as one of Finland's most important built cultural environments. The Ski Stadium is significant both architecturally and as part of the cultural and athletic history of Lahti. The old sauna building in the Ski Stadium area, as well as the office building reconstruction and the Ski Museum building are protected under the town plan ratified in 2011. Some terrain forms typical of the Salpausselkä area are also marked as protected in the town plan.